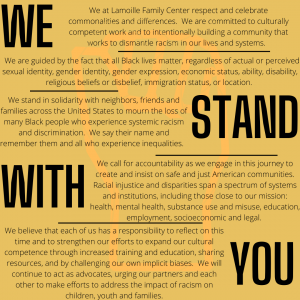 Notice
Lamoille Family Center cares about the health of our community. Our building and Child Care Center are currently closed but we are working remotely and providing limited services through the phone and mail.
For food cards, gas cards, diapers, or other supports, call 802-888-5229 x 151. Leave a detailed message with your name, phone number and your exact need and someone will get back to you.
To reach a staff member from LFC, please email, call the staff member's work cell phone directly or call 802-888-5229  x 151 and leave a message stating your name, phone number and the staff member you are trying to reach.
To apply for Child Care Financial Assistance, click here to print out, complete, and mail a form to LFC.  There are also hard copies of forms in the black mailbox next to the entrance of LFC called "Application for Child Care Financial Assistance."  Place your completed form, in an envelope, in the big Drop Box (also next to the entrance of the building.) Someone will be in touch as soon as possible.
Questions? Call Lamoille Family Center and leave a detailed message: 802-888-5229 x 151
Events & Activities at a Glance
December 4 @ 6:30 pm
-
8:00 pm
December 12 @ 10:00 am
-
11:30 pm
December 18 @ 6:30 pm
-
8:00 pm
Wednesday, November 18 6:30PM via Zoom Are you stumped by your child's tantrums and other challenging behaviors? Join us as we host Rachael Cook for a workshop about how to understand and address everyday behaviors with toddlers and children. Parents and caregivers...
read more
Lamoille Family Center's Playgroup  has pivoted to offer opportunities for families and young children to socialize in a safe and healthy way! Tuesdays 10am – 11am: Rail Trail Stroll Join us at the Johnson Food Shelf Parking Lot before the Mill Park entrance along the...
read more