Thank you for visiting Lamoille Family Center!
Lamoille Family Center cares about the health of our community. Our building is now open!  We have asked unvaccinated staff to continue to wear masks and maintain social distance. We are asking participants to do so on the honor system.
To apply for Child Care Financial Assistance, click here to print out, complete, and mail a form to LFC or click here to fill out a form on-line.  There are also hard copies of forms in the black mailbox next to the entrance of LFC called "Application for Child Care Financial Assistance."  Place your completed form, in an envelope, in the big Drop Box (also next to the entrance of the building.) Someone will be in touch as soon as possible.
Questions? Call Lamoille Family Center and leave a detailed message: 802-888-5229 x 15
Join us for upcoming events: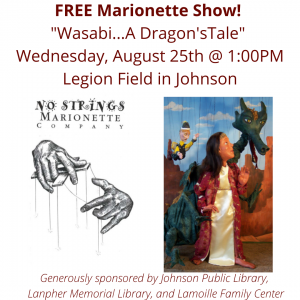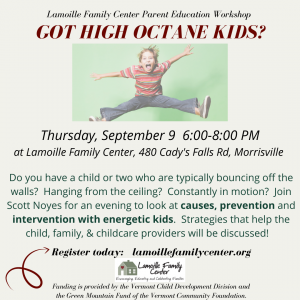 Click to register for the Parent Education Class: High Octane Kids
Events & Activities at a Glance
August 14 @ 10:00 am
-
11:30 pm
August 24 @ 10:00 am
-
11:30 am
August 25 @ 1:00 pm
-
3:00 pm
Do you have a child or two who are typically bouncing off the walls?  Hanging from the ceiling?  Constantly in motion?  Join us for an evening presentation with author, educator & presenter Scott Noyes Thursday, September 9th 2021, 6:00-8:00 pm at Lamoille Family...
read more
Tuesday, May 4, 2021 6:00 PM via Zoom To register for Nurturing Healthy Sexual Development on May 4, click here and receive a link. Join Joy Kitchell from Prevent Child Abuse Vermont in a virtual workshop for parents to learn skills and knowledge to develop and...
read more