Join Stowe Cider and Black Diamond BBQ in supporting Lamoille kids and families with a music-filled, deliciousness-bundled night on June 10th in Stowe Cider's garden. Support LFC with a table of your friends!  
Click here to book your table today!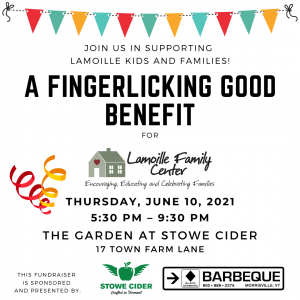 Thank you for visiting Lamoille Family Center!
Lamoille Family Center cares about the health of our community. Our building is currently closed but we are working remotely and providing services through the teleconference, phone and mail.
For food cards, gas cards, diapers, or other supports, call 802-888-5229 x 151. Leave a detailed message with your name, phone number and your exact need and someone will get back to you.
To reach a specific staff member from LFC, please email, call the staff member's work cell phone directly or call 802-888-5229  x 151 and leave a message stating your name, phone number and the staff member you are trying to reach.
To apply for Child Care Financial Assistance, click here to print out, complete, and mail a form to LFC or click here to fill out a form on-line.  There are also hard copies of forms in the black mailbox next to the entrance of LFC called "Application for Child Care Financial Assistance."  Place your completed form, in an envelope, in the big Drop Box (also next to the entrance of the building.) Someone will be in touch as soon as possible.
Questions? Call Lamoille Family Center and leave a detailed message: 802-888-5229 x 15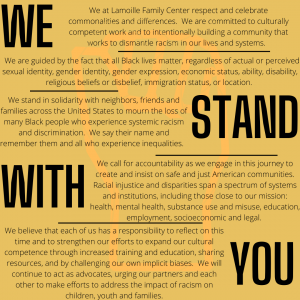 Events & Activities at a Glance
June 22 @ 10:00 am
-
11:30 am
July 10 @ 10:00 am
-
11:30 pm
July 27 @ 10:00 am
-
11:30 am
Tuesday, May 4, 2021 6:00 PM via Zoom To register for Nurturing Healthy Sexual Development on May 4, click here and receive a link. Join Joy Kitchell from Prevent Child Abuse Vermont in a virtual workshop for parents to learn skills and knowledge to develop and...
read more
1-2-3 Magic: Who is in charge at your house? April 6 and 13, 2021 6:00-7:30 PM via Zoom Based on the book and video developed by Dr. Thomas Phelan, "1-2-3 Magic" provides participants with parenting strategies for children without yelling, arguing or spanking. Step 1:...
read more