Vision
The Lamoille Valley will be a safe and secure community where children, youth, and families are empowered, cared for and valued.
Mission
The Lamoille Family Center is a nonprofit organization that promotes the well-being of Lamoille Valley children, youth and families and supports them in meeting life's challenges through education, direct services and advocacy.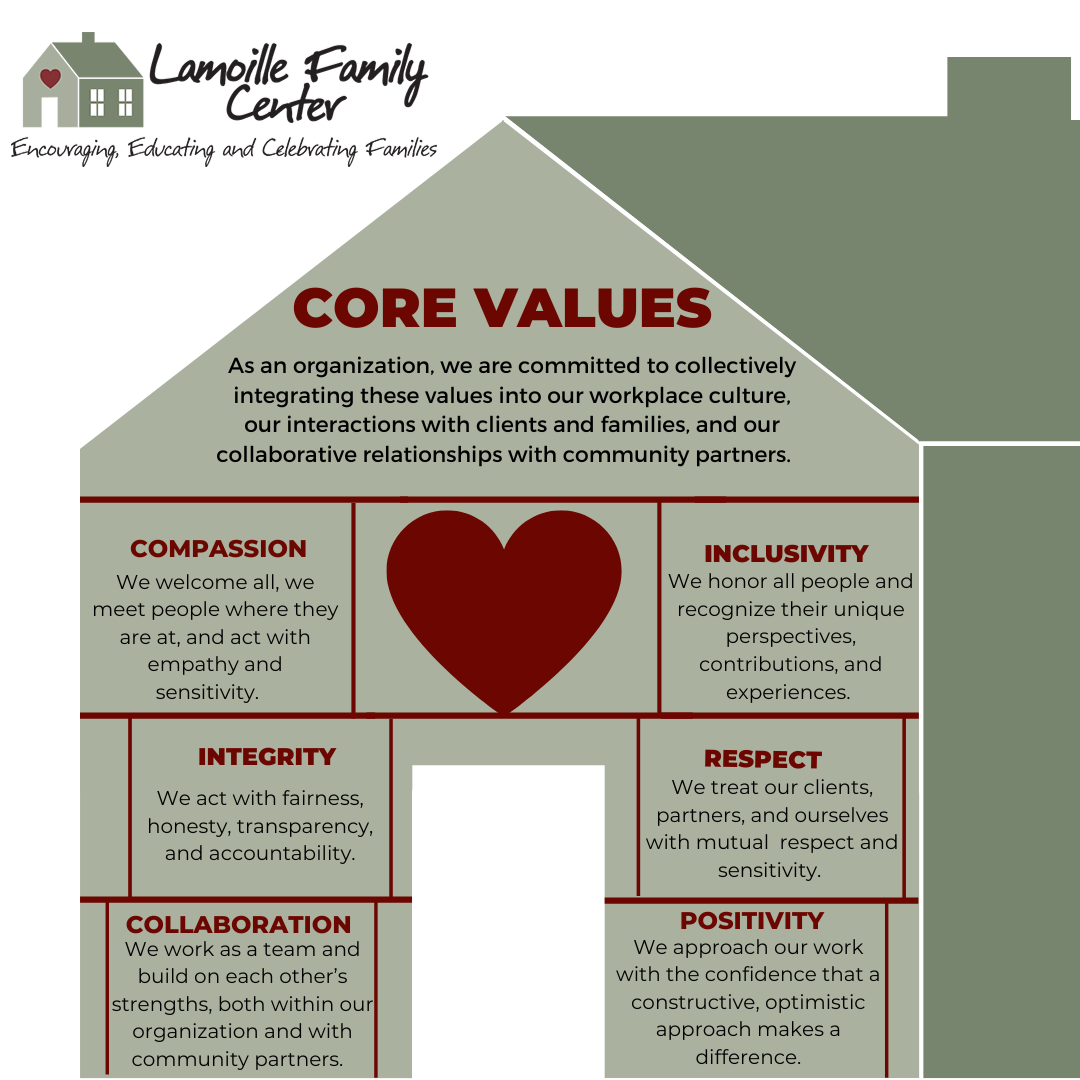 Core Values
These are the Core Values that represent the Lamoille Family Center.  As an organization, we are committed to collectively integrating these values into our workplace culture, our interactions with clients and families, and our collaborative relationships with community partners. 
Respect – We treat our clients, partners, and ourselves with mutual respect and sensitivity.
Integrity – We act with fairness, honesty, transparency, and accountability.
Compassion – We welcome all, we meet people where they are at, and act with empathy and sensitivity.
Collaboration – We work as a team and build on each other's strengths, both within our organization and with 

community partners.

Inclusivity – We honor all people and recognize their unique perspectives, contributions, and experiences.
Positivity – We approach our work with the confidence that a constructive, optimistic approach makes a 

difference.
Non-Discrimination Policy
No youth, family member or staff should be subject to discrimination or harassment* in any form while engaged in LFC programming. *Harassment can be comments, gestures, actions, or attention that is intended to hurt, embarrass, offend, or intimidate another person. It can include comments on someone's body or appearance, identity, gender or sexual activity.
We do not discriminate or deny anyone services on the basis of, real or perceived: Race, Color, National Origin, Religion, Disability, Income, Sex, Sexual Orientation, Gender Identity, Political Affiliation, Marital Status, Military Service, Past History, Age**
**Some programs at LFC are age specific.
If you feel that you have been discriminated against, please contact:
Carol Lang-Godin    clang-godin@lamoillefamilycenter.org     802-888-5229 ext. 124
If you prefer to report an incident of discrimination or harassment outside of the agency, please contact the VT Commission on Human Rights: Http://hrc.vermont.gov/how-to-file
All discrimination and harassment claims will be investigated and findings will be shared with the individual(s) making the report.