History
Our Beginnings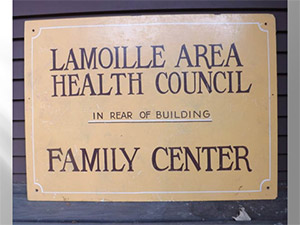 In the 1970's when there was energy in the air about new possibilities for society, dreamers with practical roots conceived the idea of a center to educate parents and help children. Social service agencies and community members got together to write grants to fund a new organization called the Lamoille Family Center. They rallied behind the idea of a center that worked with families, developed a governing board, and received funding to hire a Director.  The Family Center was nimble and developed programs where the need existed.  Olea Landi, the first Executive Director, stated, "In a nutshell, we kind of saw a need, heard of a need or were contacted about a need and we tried to do something about it.  We had a kind of blind optimism that we could make a difference in Lamoille County and I think we did."
Upon receiving grant funding in 1976, the Family Center opened its' doors and quickly became a place of transformation. It became the face of hope for many young mothers and their children. One young mother, when first connected with the Family Center, was found in a disordered, dirty, apartment. Her children were undernourished and uncared for, as the mother was unable to cope with the challenges they presented. The Family Center staff started making home visits to her and then brought her to a group on parenting. She was taken under the wing of another woman and began to blossom. She learned new parenting skills, new skills for homemaking, and gained new friends and supporters. She joined some of the groups for high-risk women and grew through the education and support she found there. She was totally transformed, raising children with very different outcomes than if no intervention had occurred when their mother was a young woman.
Our First Location
The Family Center started out in a storefront facing the parking lot behind Adrian's Department Store. This first center, while small with only two staff, was not intimidating and very accessible.  Claire Stefanik's desk was right inside the door and her warm presence was an immediate welcome to people who walked in with questions or looking for immediate help.
Olea and Claire developed and took workshops to participants. They recognized that many mothers of small children could not come to the Center, so they went to them. Claire remembers holding workshops in trailers where Olea would lead discussions with mothers, while she cared for the children in another room. Sometimes Claire had 20 small babies and preschool children to care for while Olea and their moms talked. Topics for these workshops ranged widely from how to get the children to eat to teaching specific parenting approaches.
While the focus was on parents with little access to services, many with unmet health and nutritional needs and little formal education, the Family Center soon was seen as a source of information for all parents in the region.  Staff received calls from parents of all ages, from all Lamoille Valley towns, and every social status, asking for all types of support and education.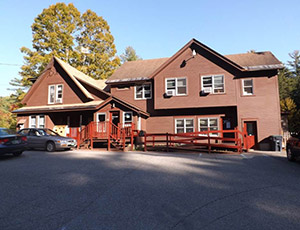 Our Programs Grow
In the early 80's, a group for pregnant and parenting teens began as a cooperative effort with the Department of Health.  A nurse and volunteer met weekly with a group of young women who were faced with the challenge of caring for a baby.  Some of the women had family support, but many had none.  The young moms learned how to use the WIC food they were receiving to make nutritious meals, developed budgets, and learned time management skills, all while receiving emotional support. When the babies began to arrive, the group also learned how to care for the child, as the mom adjusted from the fairytale dream of parenthood to the reality.  Many members of the group maintained an informal support system for years.  A number of the young women obtained a GED, attended CCV and some, completed further professional education.
Our Leadership Guides Expansion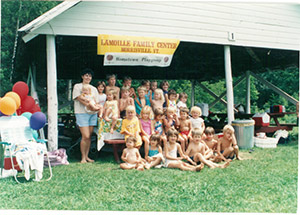 The Lamoille Family Center has grown through six directors and 4 locations. Each new site had provided the organization with more space to house programs. The Family Center has continued to expand until it has filled the present large house to bursting. Staff share small offices; group meetings are held in the former living room; and the parking lot overflows.  The building on Cady's Falls Road now houses many programs and projects including high quality child care referral, parenting support, playgroups, home visits, emergency resources, the Holiday Project, Healthy Lamoille Valley and youth case management and crisis intervention.  As one of 15 parent child centers across the state, almost 30 dedicated and caring staff reach more than 4000 children, youth, parents and caregivers annually.
The Family Center has many of the same attributes it began with: creativity, family centered, responsive to the community.  Throughout the years, the staff, many who have been parents and some facing their own struggles, have reached out to families with understanding and compassion.  The mission is clear and strong (to encourage, educate and celebrate families), the staff is committed and hardworking and the present board is a serious and hardworking director of the whole.  Results are still achieved one family at a time, as described recently by this mother, "I appreciate all that the Family Center has done for me over the past 14 years when I started taking my 4 month old (now 13) to weekly playgroup.  We've taken helpful classes and always have found people at the Family Center so kind and willing to listen and guide my parenting.  Thank you for the help as well as for being there all these years as I've learned to be a parent."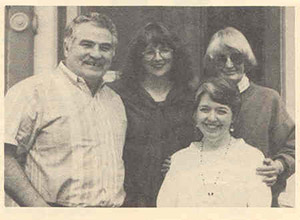 The Family Center has become a strong leader among its community partners in developing and maintaining a culture of support and cooperation.  Over the years, the Family Center has used out-of-the-box thinking to address problems in the Lamoille Valley including homelessness, hunger, child care capacity, and youth suicide.  In addition, the Family Center has been a fiscal agent for numerous new organizations in the region, including Girls Move Mountains and People in Partnership.  Most recently, Healthy Lamoille Valley became one of Lamoille Family Center's programs.  HLV is a coalition working with towns, schools, families and the community to prevent substance misuse in youth.
For more information about the Lamoille Family Center and to learn how you can get involved, call 888-5229 or click here to email.
* This history was written by Jan Roy, an early Family Center Employee